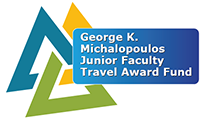 The George K. Michalopoulos Junior Faculty Travel Award is offered to promote the participation of early career investigators in scientific meetings and conferences. The award recognizes the outstanding research being conducted by ASIP Regular and Next-Generation Scientist members who are employed as Junior Faculty at institutions around the world. The awardee is selected by the ASIP Meritorious Awards Committee on the basis of early career productivity and the scientific merit of the submitted abstract.
The award is funded by the George K. Michalopoulos Junior Faculty Travel Award and the stipend is $1,000. The award applicant should be a co-author but does NOT have to be the first author of the abstract.
Eligibility:
Be an ASIP Regular of Next-Generation Scientist Member in good standing at the time of submission of the award application and through the full dates of the Experimental Biology 2020 Annual Meeting (April 4-7, 2020).

Have a professional degree (DO, DVM, MBBS, MD, PhD, or equivalent) for at least two years and no more than seven years (or nine years if in clinical training) prior to submitting the award application.
Requirements:
Submit an abstract to Experimental Biology 2020 to one (or more) ASIP Topic Categories by Monday, November 18, 2019.

Register for Experimental Biology 2020 by Monday, November 18, 2019.

Attend the ASIP Business Meeting and Awards Presentations on Tuesday, April 6, 2020 from 5:15 PM - 6:16 PM. The travel award will be rescinded if the awardee is not present and/or does not verify attendance during the meeting.